DARKRISING: The Art of Aly Fell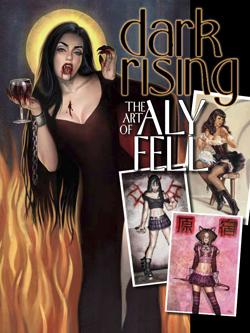 Published by the mighty Sal Quartico Publishing, I'm enormously pleased to have my first personal collection of work. Full colour, 48 page soft cover featuring dozens of images.
The book costs £10 UK each. £2.50 postage in the UK, all international shipping is £5.00 (unless you're on the moon, in which case it will cost a bit more).
Below is a drop-down menu. Please select your personal delivery option and click the Paypal 'BUY NOW' button.
I sign all the books unless you specify otherwise. Please let me know at checkout if you'd rather not have my squiggle on the inside cover, (or if you fancy a dedication of some kind). If you have any questions or would like to pay differently, please contact me at my email address on the CONTACT page.
Thank you!